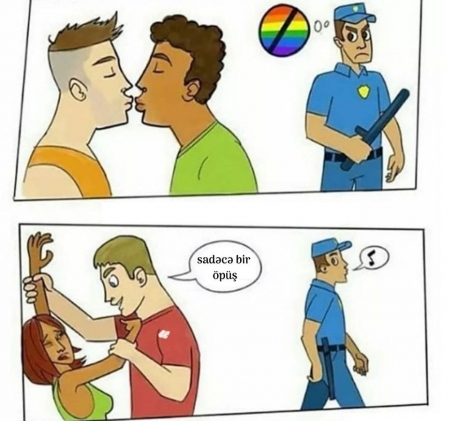 Femkulis condemns violence and harassment against LGBT citizens in Azerbaijan
Азербайджан
The public movement Femkulis aimed at enlightening women's rights in Azerbaijan harshly criticized law enforcement officials.
In particular, the authors of the appeal mention the illegal and mass detentions of LGBT citizens in September 2017.
"The Azerbaijani police are silent about violence against women in the street or elsewhere by their spouses, fathers, brothers or others. However, he considers himself right to interfere in the relationship of LGBT couples, which are built by mutual consent, "notes Femkulis
We want to remind the police that it is their responsibility to ensure public order and public safety for everyone, including LGBT citizens.
Due to lack of funding, the article was translated by google translator. Gay.Az editors apologize for the inconvenience*
Gay.Az/Salam.gay
Caricature: Fimkulis