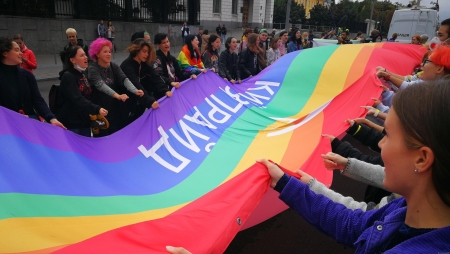 Ukraine: Thousands of gay pride parades took place in Kiev (PHOTOS)
In world
Thousands of people, including military personnel and diplomats, took part in the annual gay pride parade in the Ukrainian capital, despite opposition to an event canceled last year due to the coronavirus pandemic.
According to the organizers, about 7 thousand people took part in the Equality March this year. That's less than 8,000 in 2019, when the event was the largest since it began a decade ago, despite protests from religious and nationalist groups.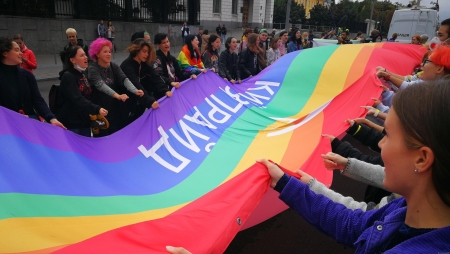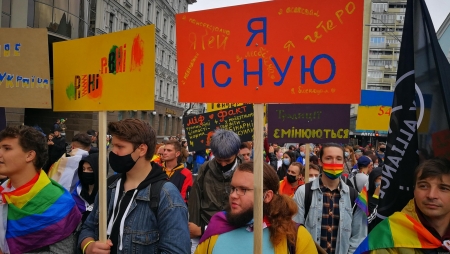 The march was accompanied by police, while several hundred opponents of LGBT rights gathered nearby, but there were no violent incidents.
Ukraine's Ombudsman for Human Rights Lyudmila Denisova wrote on Facebook on Sunday that the constitution recognizes all people "equal in their rights from birth, regardless of characteristics, including sexual orientation and gender identity."
"I urge citizens to be tolerant of each other and refrain from manifestations of discrimination," she added.
Six people who tried to break through police cordons were detained during the Equality March LGBT procession in Kiev, local police said.
Despite the arrests, according to the head of the National Police Department Andrei Krishchenko, "there was no significant violation of order."
The action was coordinated with the city authorities, which restricted traffic in the center of Kiev from 6 am to 2 pm. Also, two central metro stations were temporarily closed.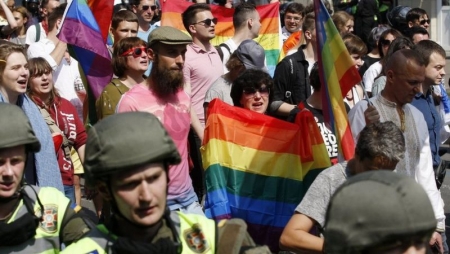 However, the participants had to change the route of the march in order to avoid clashes with opponents of the event.
About 100 people tried to form a chain along the route of the gay pride parade. Gas cartridges, eggs and bubbles of brilliant green were seized from some of them. Also in one of the parks, a group of people burned a rainbow flag.
The police said that a preventive conversation was held with them at the station.
Public order during the march was ensured by five thousand policemen.
Due to lack of funding, the article was translated by google translator. Gay.Az editors apologize for the inconvenience*
Gay.Az/Salam.gay/golosameriki.com/bbc.com/dw.com