Rainbow flag raised at Azerbaijan Olympic Stadium (PHOTOS)
Азербайджан
The game Denmark-Czech Republic in the quarterfinals of the European Football Championship in Baku was marked by a scandal. Local guards took away the rainbow flag from a Danish fan. The incident is already being called the "lowest point" of the Euro and the "shame of European football".
As soon as Danish fan Kristoffer Föns pulled out the rainbow flag, two local guards appeared next to him. "One came very close. Without saying anything, he just began to take the flag away from me, "Kristoffer Föns later told representatives of several media outlets.
UEFA examines rainbow flag confiscation at Euro 2020 match in Baku

After the match, UEFA quickly commented that it had not issued any orders to confiscate rainbow flags to security guards in Baku or any of the more than a dozen cities hosting European Championship games. The European Football Association intends to find out what happened. However, in the UEFA press release there is a caveat that, "according to direct information from the scene", the Danish fan was "very drunk and some local football fans began to show aggression against him."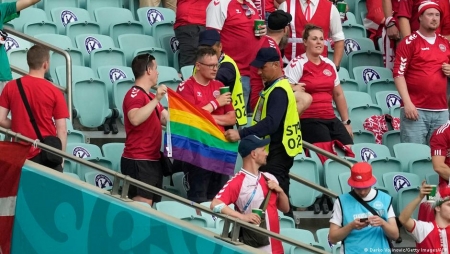 However, the Danish Football Association cannot confirm with certainty the information about Kristoffer Föns' "high intoxication".
The Football Supporters Europe (FSE) fan organization condemned the incident with the Danish and the rainbow flag in Baku, calling it "a flagrant violation of the rules of the UEFA tournament."
"We confirm that the flag was returned to its owners. We would like to clarify that this was a gross violation of the rules of the UEFA tournament. We will continue to liaise with the Danish Football Union to clarify the situation. "- FSE
According to the German weekly Der Stern, the confiscation of the flag is "the lowest point of the current European Championship - and a disgrace to European football."
Due to lack of funding, the article was translated by google translator. Gay.Az editors apologize for the inconvenience*
Gay.Az/Salam.gay/dw.com/berlingske.dk