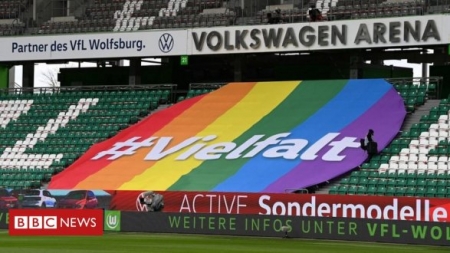 UEFA bans support for LGBT people in Azerbaijan
Азербайджан
UEFA has asked its major sponsors, including carmaker Volkswagen, not to display LGBT rainbow-colored banners at Euro 2020 matches in Baku, Agence France-Presse reported.
The European Football Union made this decision, citing compliance with local "legislation" - "I wonder what legislation? - ed.)
"Due to UEFA's concerns about the legal basis for facilities in Russia and Azerbaijan, the Union informed us about the impossibility of using rainbow advertising on billboards in St. Petersburg and Baku," the German automotive giant Volkswagen said in a statement.
In response to an AFP inquiry, a company spokesman said that while UEFA "fully supports" the idea of "tolerance and respect," the European Football Union is asking sponsors to "ensure compliance with local legislation, which was not the case with Baku and St. Petersburg."
The German Lesbian and Gay Association (LSVD) expressed outrage at UEFA's position, accusing the football organization of "arrogance and deception." "By its actions, UEFA betrays not only LGBT people in Azerbaijan and Russia, but also throughout Europe," said LSVD spokesman Alfonso Pantisano.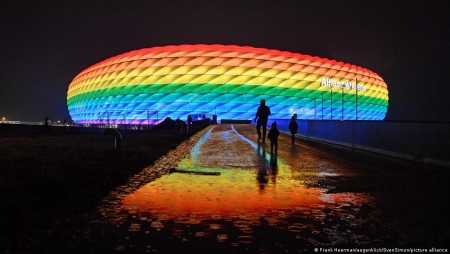 Earlier at Euro 2020, during the group stage match between Germany and Hungary, the Munich authorities wanted to illuminate the local stadium with rainbow colors in support of the LGBT community. It was planned to do this in retaliation for Hungary, where the propaganda of homosexuality among minors was banned at the legislative level. But UEFA refused the Munich authorities, rightly seeing the political context in this.
Several European sponsors, including Volkswagen, broadcast rainbow advertisements in stadiums during the round of 16 matches. The company said it would be allowed to show it during the quarterfinals in Rome and the semifinals and finals in London.
Due to lack of funding, the article was translated by google translator. Gay.Az editors apologize for the inconvenience*
Gay.Az/Salam.gay